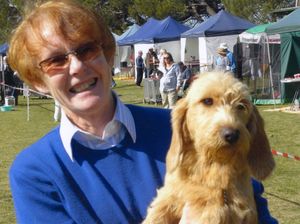 CH.
XKALIBA ROSA BONHEUR


Ch. Xkaliba Rosa Bonheur,
ROSIE to her friends
was Challenge Bitch and Runner Up Best of Breed
at this years
 2012 Royal Canberra Show.
She has now qualified for Cruft's next year.

If you are considering purchasing a Fauve, you need to come and meet them
and learn about their faults and foibles before you commit
to a 12+ year relationship with one.

They are a fantastic little dog - they do need either human or canine companionship
 and lots of exercise to blossom, and you need to remember
they are as bad as my Beagles at coming when called.